Better Writing in Master's Programmes (completed)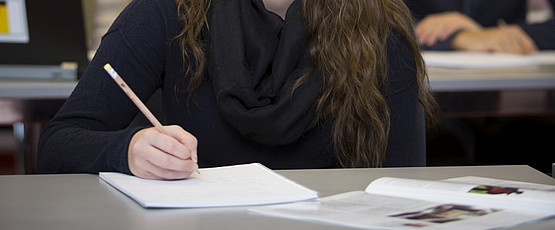 Ongoing since March 2012
Doris Pany (Curricula Development and Study Services) with Lukas Meyer, Barbara Reiter and Harald Stelzer
A pilot project for the support of academic writing skills

Writing is the most important form of communication and representation in the humanities and cultural studies. Not only are the research topics in these disciplines essentially bound to literacy, but scientific discourse itself requires a broad and diverse set of writing skills. Further, the very act of writing implies cognitive, learning and thinking processes that are fundamental to scientific activity. A thought put down on paper (or a computer screen) can be, for instance, more accurately examined in terms of premises and underlying implications and hence is a more reliable basis for developing further ideas.

Given the enormous importance of writing within the academic and scientific context, the project "Better writing in master's programs" – run by Doris Pany – was established. Initiated by the Section of Moral and Political Philosophy in the summer term 2012, the project is a co-operation between the Vice Rector for Studies and Teaching and three inter-disciplinary master's programs. Until winter term 2014/15 "Better writing" will be administered as a pilot project. For this period of time, the project offers writing-related workshops and the possibility to integrate single writing units into regular courses as well as individual writing counseling. These opportunities to reflect on the scientific writing process will help students to improve their academic writing skills. Accordingly the project is meant to enhance the completion rate in the participating master's programs and it aims ultimately at encouraging students to discuss and develop their experience of academic writing, and to make writing a high priority in their study and research.
Contact
Head of the section
Univ.-Prof. Dr.
Lukas
Meyer
Contact
Office and project management
Attemsgasse 25/II
8010 Graz
Mag.
Kanita
Kovačević
please contact for an appointment